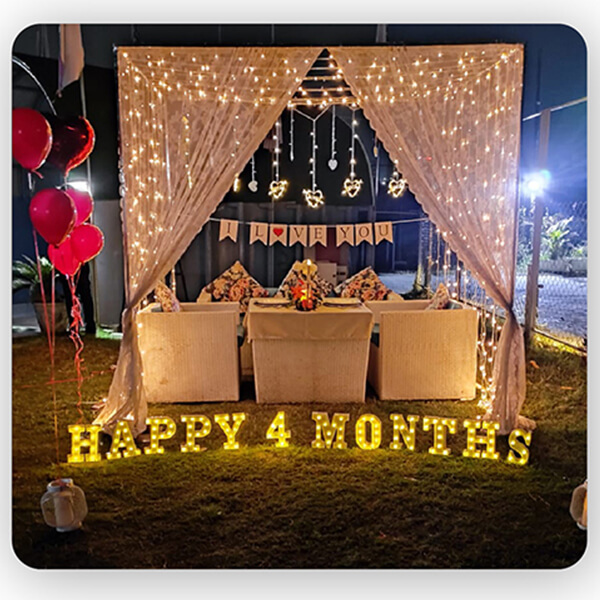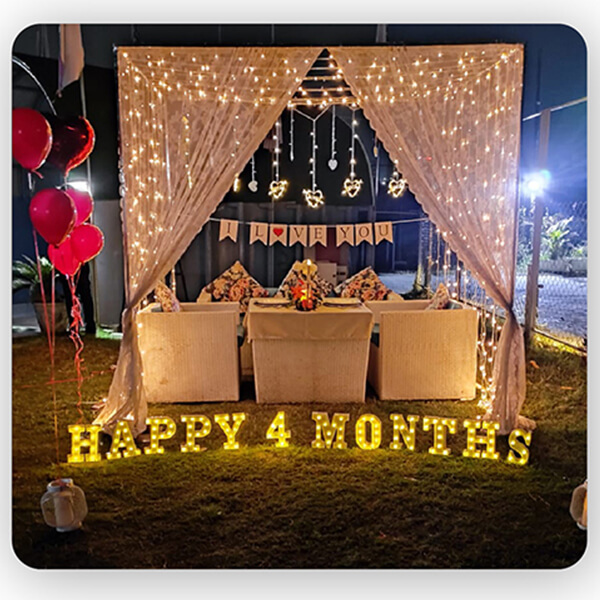 Cabana Candle Light with Helium Balloons with Led Light Could Dining
₹14,999.00
SKU:

Cabana Candle Light with Helium Balloons with Led Light Could Dining
Description
Are you getting lost in today's fast-paced life, hectic work schedules, and other obligations? And, are you unable to spend quality time with that special someone in your life? This is understandable, and it cannot always be fixed. You can, however, plan for a brief respite from your hectic schedule. Candlelight dinner ideas can enliven your romantic life, bring back sweet memories, and even help you create cherish-worthy memories for the future.
Enjoy a romantic evening with delectable drinks, delectable food, and excellent company. This candlelight dinner will be held on the terrace. The romantic atmosphere will be set by the dreamy atmosphere at Madhapur.
The Madhapur cabana candlelight dinner offers luxury as well as a spectacular view of the city from the rooftop. The presence of someone you care about will improve the beauty of your surroundings.
Set up a lighting setup to enjoy a meal in natural cosiness. The inside of the tent is lined with candles to illuminate the experience. Fill the space with soft cushions for maximum snuggling, and keep warm with marshmallow heart hot chocolate.
It certainly feels more special. Regardless of what's on the menu, candlelight adds undeniable charm to your dining experience. It doesn't have to be steak and lobster; perhaps your most significant achievement of the day is simply heating a frozen pizza. You'll add elegance and softness to your dining experience by lighting that candlestick. Candlelit dinners, like long walks on the beach, are famous for romancing – so whether you're romancing someone else or simply feeling like you need some self-love, we're confident you will be delighted.
Our portfolio of experiences will captivate you and your significant other. Fill your special occasions and memorable days with these extraordinary experiences to breathe new life into them
Know Before You Go for Rooftop Candle Light Dinner In Hyderabad
The package is applicable for 2 guests only.
We reserve the right to eject any guest if we find them engaging in fights or disrupting the hotel's peace.
Any breakage or damage of any items will be charged at actuals.
About the activity:
Timings: Open from 07:00 PM to 11 PM
Spend a beautiful evening with your partner in Chavadi Rooftop and cherish your lovely moments.
Start your evening with the refreshing welcome drinks.
The beautiful decoration of flowers and candles will create a perfect romantic environment around you.
Relish 5 Course Meal for 2 People + Mocktails + Decorated Table+ 250gm cake. All the meals provide you with both the option, veg, and non-veg.
Experience a wonderful evening while enjoying the beautiful view of the city with the cabana candel light dinner.