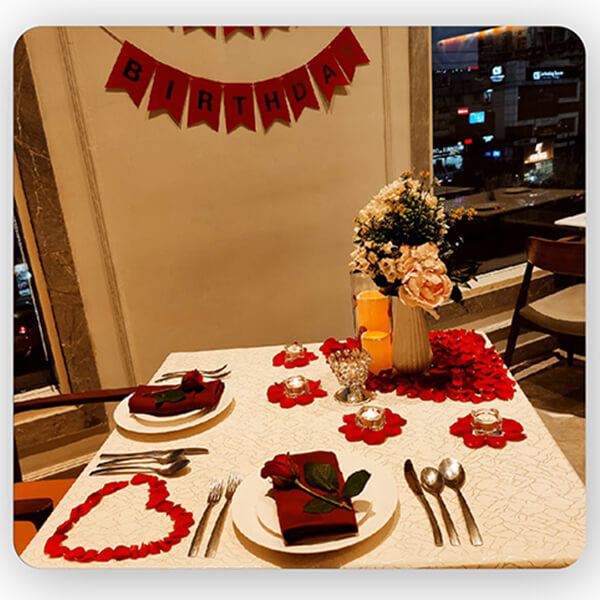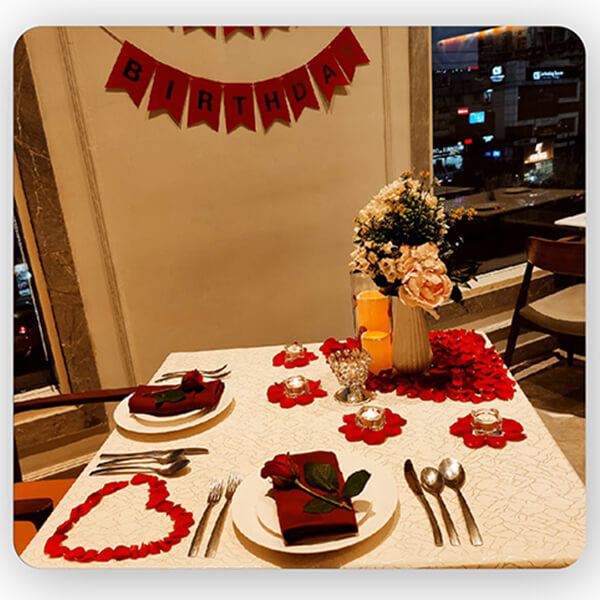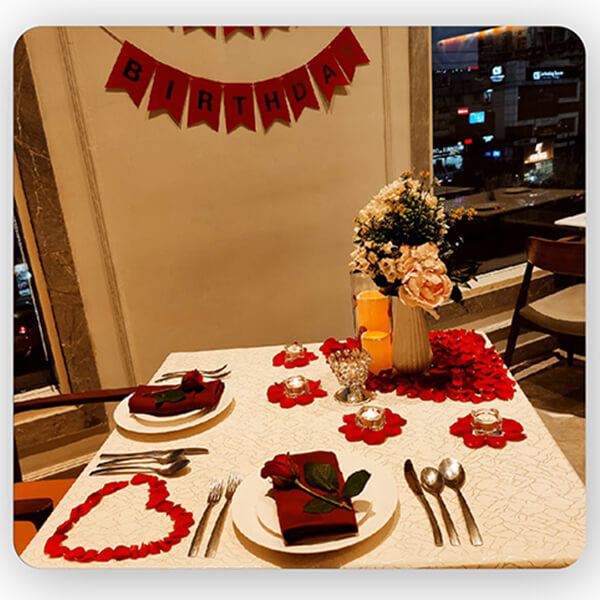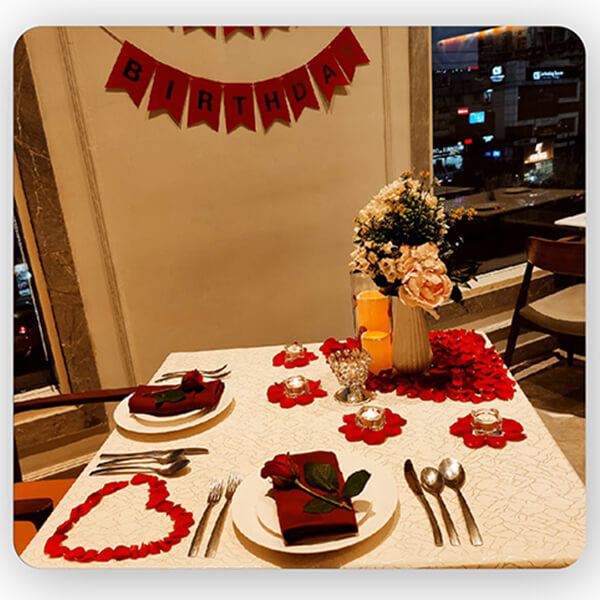 Indoor Candle Light Setup at Le Meridien
₹8,999.00
SKU:

Indoor Candle Light Setup at Le Meridien
Description
A room with fresh flowers, a dinner prepared by your favorite chef, and candles flickering tantalizingly across the table is the perfect setting for the evening. This installation takes the beauty of candlelight dinners to another level.
With a lit candle, the sensual and romantic mood is instantly set for a special occasion. Our candlelight dinner packages are a unique way to enjoy your meal together. This package includes Candle Light Dinner, Decorations, and 5-course Meals.
The indoor candlelight dinner in Gachibowli will show you how a romantic evening looks with candlelight and beautiful decorations. In this experience, the candles are replaced by beautiful yellow flower petals that enhance the dining table look. Enjoy the subtle aroma of fresh flowers and a gourmet meal as you enjoy each other's company.
There are many ways to impress and surprise your partner. A great way to do this is to take them out for a candlelight dinner they would cherish. Presenting to you a romantic candlelight dinner in Le Meridian Gachibowli, it's a casual, thoughtful date that will leave them more than satisfied. Your partner will surely appreciate your panning. Candlelight dinner is among the few best ways to spend quality time with your loved one. A heart full of love cares and shows affection in one way or another; spending time with is the best thing you can do for your partner.
Present-day life is stressful, and people are extremely busy, due to which couples fail to take time for each other. Such hectic schedules are taking a toll on the relations, as the couples do not spend quality time together. The couples should take time off their hectic plans and look forward to being with each other. this will surely enchant the love of your life. You can plan the dresses for the special evening together or shop together. The love in a relationship will increase manifold if you can surprise your partner with something special.
The experiences we offer in our portfolio will captivate you and your significant other. Fill your special occasions and unforgettable days with these extraordinary experiences to breathe new life into your enduring romance.
About the activity:
Indoor Candle Light Setup
Inclusions :
5 Course Meal for 2 People + Mocktails + Decorated Table
FAQs
How many minimum people are required to avail Indoor Candle Light at Gachibowli package?
The Indoor Candle Light dinner is suitable for couples. Therefore, a couple is needed to book the package as it is applicable for 2 guests only. The package is a private activity and includes everything that can make the dining experience of a couple romantic and unforgettable.
What is the best time to experience an Indoor Candle Light dinner in cloud dining at Gachibowli?
The best time to experience a romantic indoor candlelight dinner at Gachibowli is during the winter. At this time, the sky is clear, and the temperature is soothing. Moreover, during this season, the people of Gachibowli like to get out of their houses more often and enjoy the winter.
Additionally, the winters, by default, are considered the best for a romantic candlelight dinner.
How much does an Indoor Candle Light dinner in Gachibowli costs?
The indoor Candle Light Dinner In Madhapur costs around 7000 per couple. The package includes a welcome drink, 5 Course Meal for 2 People + Mocktails + Decorated Table as shown in Pictures /Videos. You will get options for both vegetarian and non-vegetarian continental cuisine.
Apart from the dining benefits, we offer you the best price guarantee to enjoy your dinner with your loved ones without putting much burden on your pockets.