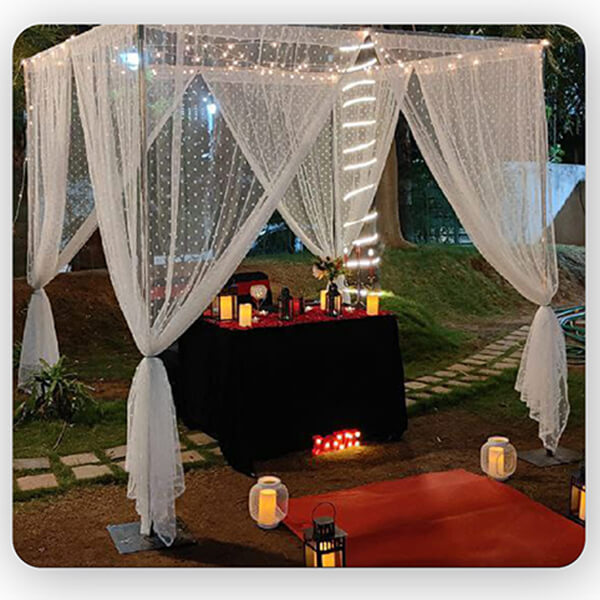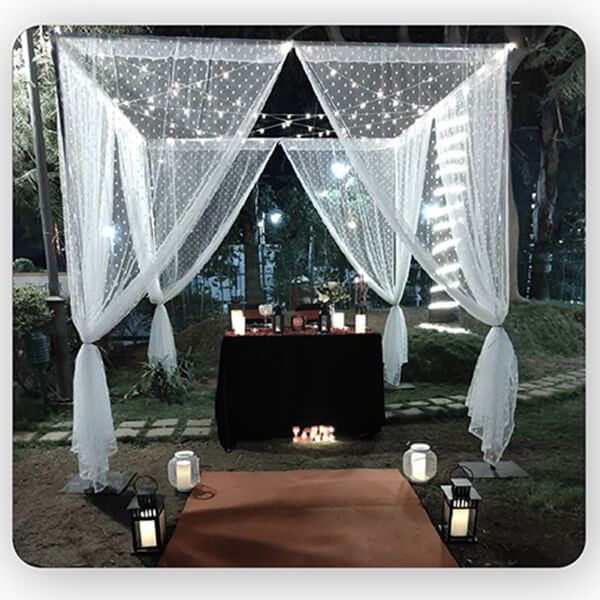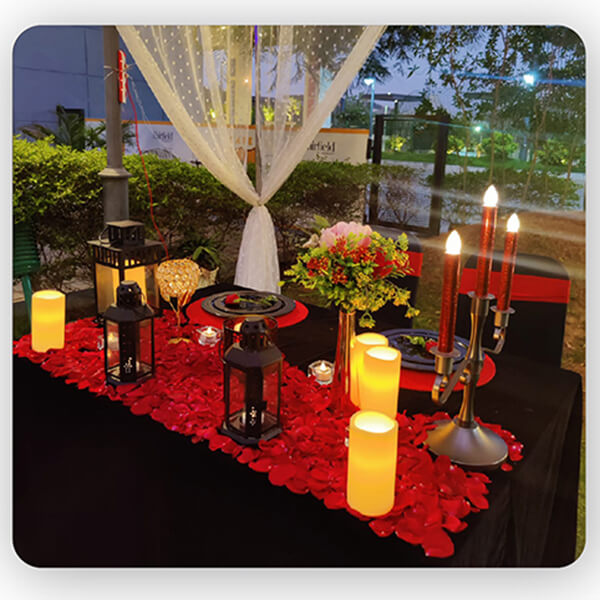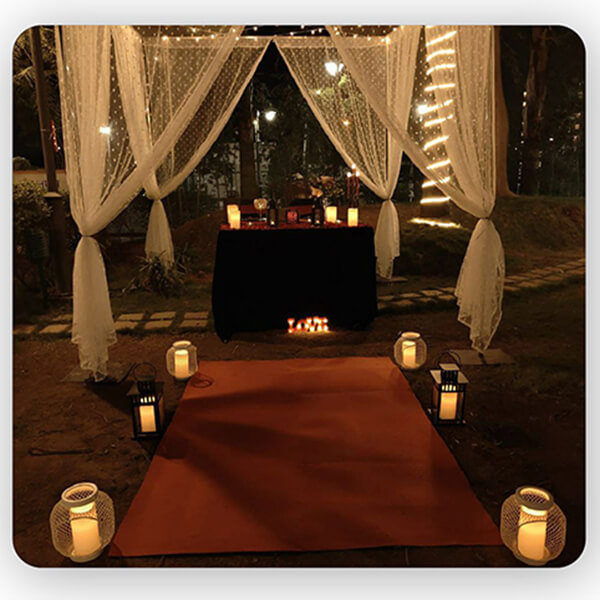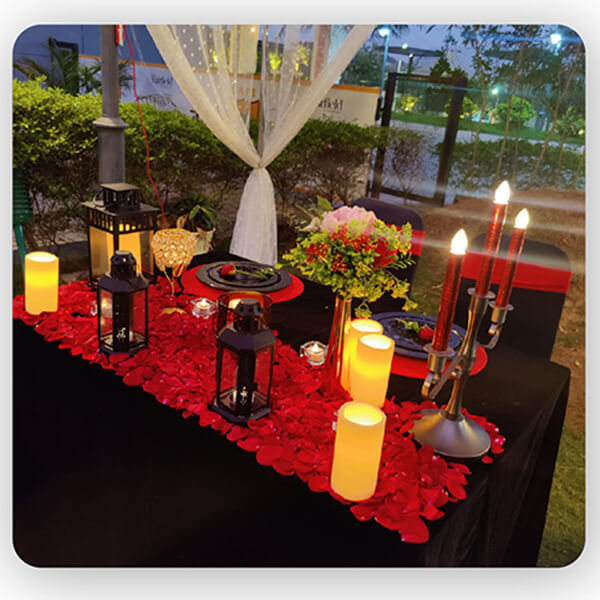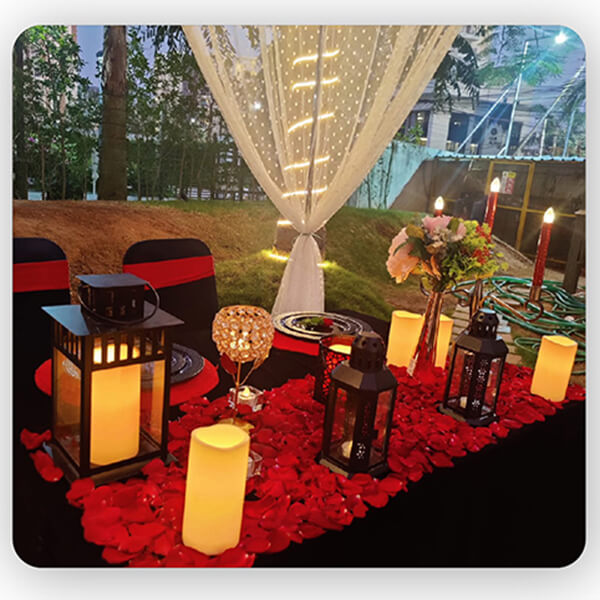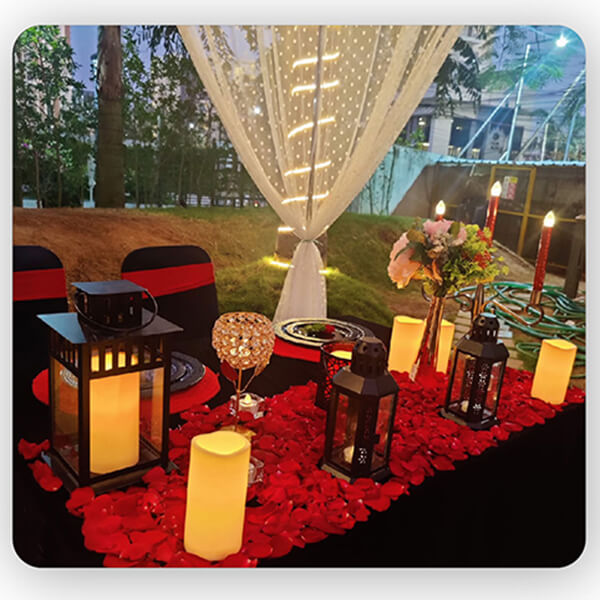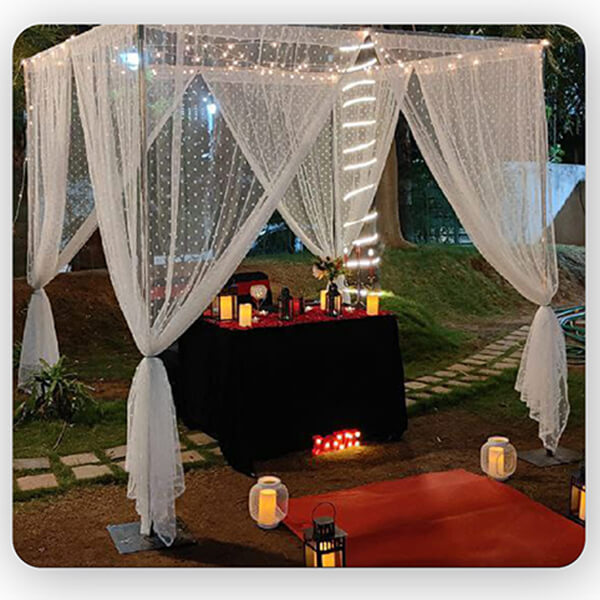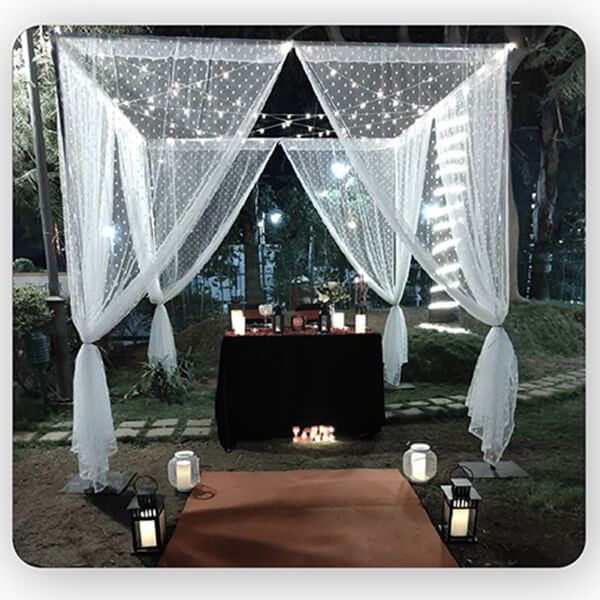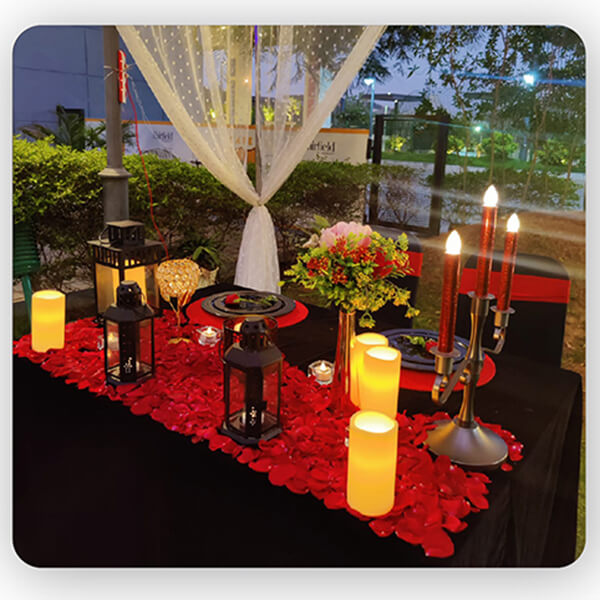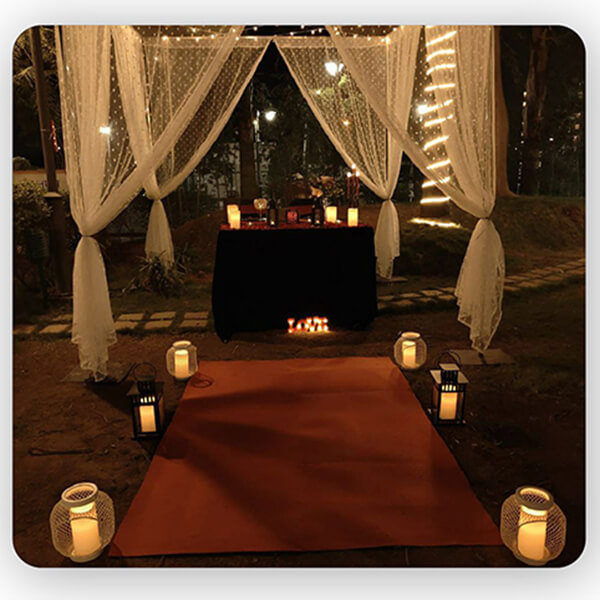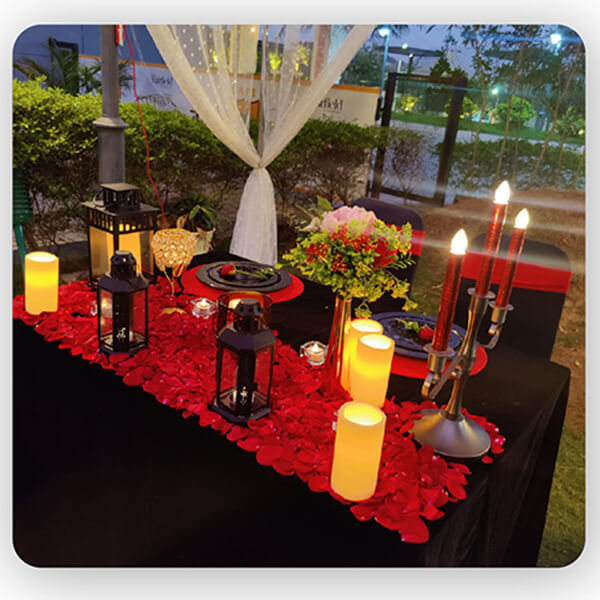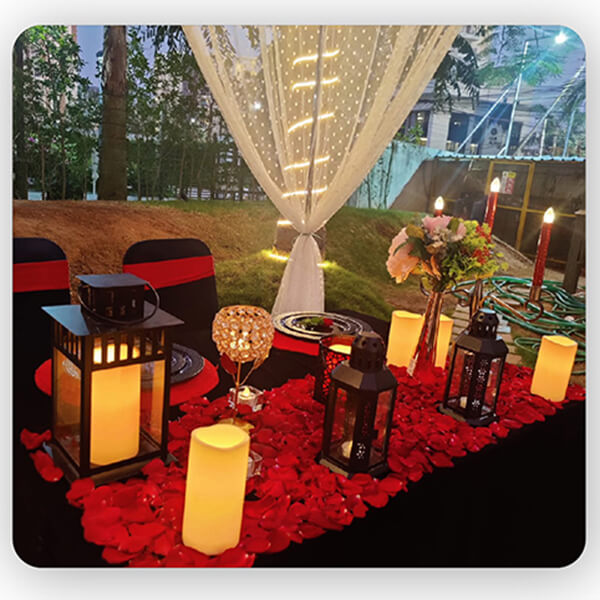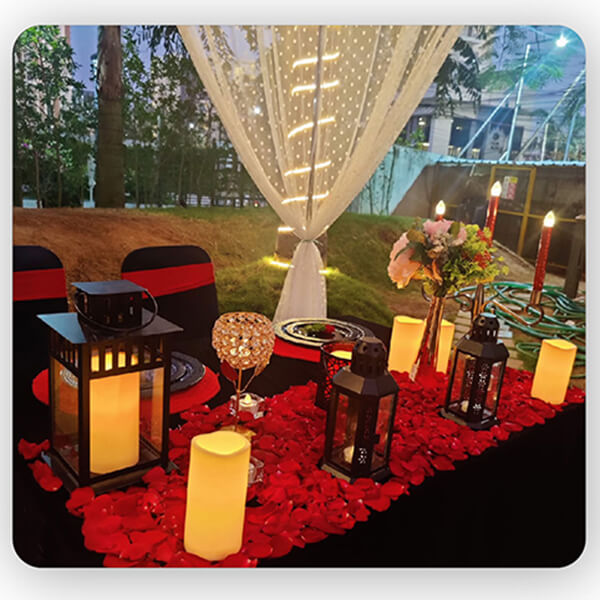 Exotic Cabana Candle Light Dinner
₹14,999.00
SKU:

Exotic Cabana Candle Light Dinner
Description
If you haven't had a good time with your partner for a long time, you can go for a candlelight dinner date. Private time with your partner is very important; it helps improve the bond and relationship. You can go for some candlelight dinners. You can also go for some trips, track and do many things.
Nothing says love like eating amongst the flowers. Treat your date to a fairytale experience by hanging candles, string lights, and paper lanterns from the trees and plants. It'll create a warm glow as the daylight fades. Next, set up a table and cover it with flowers; you are in a garden, after all! Choose a floral centerpiece to keep it classic, or collect petals and scatter them on the table. When it comes to the meal, keep it light and fresh to echo the garden's natural allure.
A candlelight dinner is one of the most favorite options for all couples to spend relaxing and romantic time with each other. When planning a date with your partner, you must check out for some romantic candlelight, dinner ideas, and places. Ella hotel in Gachibowli is the best place to have the best cabana candlelight dinner.
The piece of Garden and beautiful garden location help make your dinner special. You can decorate it with beautiful hanging candles and colourful strings lights. You can also use plants and trees lighting.
The decoration's warm glow and the garden's background will make your day. After they set up a table and decorated it with some beautiful flowers, as you see in the garden dasso, you can see lots of beautiful flowers around you. Send decorate your dinner table.
We understand you have a busy work schedule due to which you can't organize such things for your loved ones, and this is why we Are here to help you manage the best cabana candlelight dinner in  Fairfield, Gachibowli.
About the activity:
Exotic Cabana Candle Light Dinner
Location : Fairfield, Gachibowli
Inclusion : 4 Course Meal
Decoration as In Video
Mocktails / Cocktail (2 No.)
Cake (500 GM's)
FAQs
How many minimum people are required to avail Exotic Cabana Candle Light Dinner at Fairfield, Gachibowli package?
The Exotic cabana candlelight dinner is suitable for couples. Therefore, a couple is needed to book the package as it is applicable for 2 guests only. The package is a private activity and includes everything that can make the dining experience of a couple romantic and unforgettable.
What is the best time to experience a cabana candlelight dinner in cloud dining at Fairfield, Gachibowli?
Winter is the best time to experience a romantic rooftop candlelight dinner at Gachibowli. At this time, the sky is clear, and the temperature is soothing. Moreover, during this season, the people of Gachibowli like to get out of their houses more often and enjoy the winter.
Additionally, the winters, by default, are considered the best for an Exotic Cabana Candle Light Dinner.
How much does a Rooftop candlelight dinner in Fairfield, Gachibowli, costs?
The Rooftop Candle Light Dinner In Gachibowli costs around 12000 per couple. The package includes a welcome drink, 4 Course Meal for 2 People + Mocktails, + Decorated Table as shown in Pictures /Videos + cake(500 gm). You will get options for both vegetarian and non-vegetarian continental cuisine.
Apart from the dining benefits, we offer you the best price guarantee so that you can enjoy your dinner with your loved ones without putting much burden on your pockets