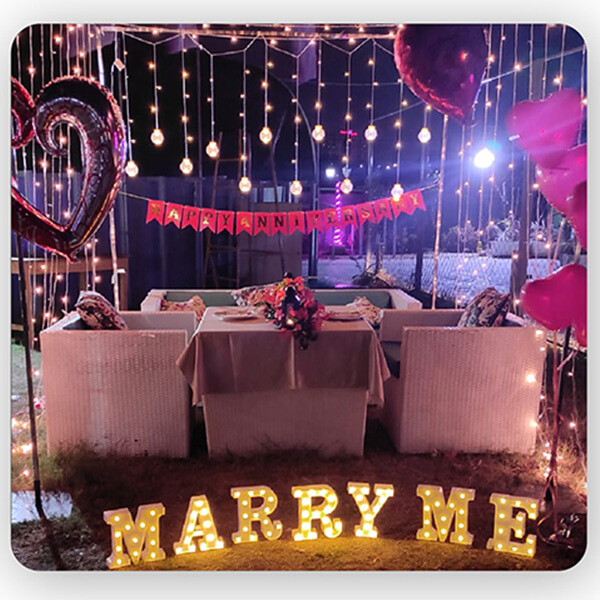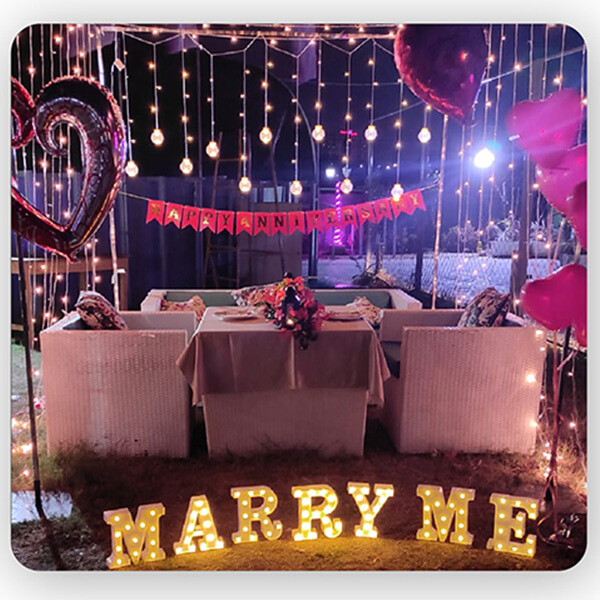 Cabana Candle Light Setup With Led Light Could Dining
₹10,999.00
SKU:

Cabana Candle Light Setup With Led Light Could Dining
Description
Every minor and significant event in the life of the people of Hyderabad is incomplete without indulging in some delectable cuisine. There are several fine-dining establishments with elegant ambiance, affordable casual eateries, and Instagram-worthy cafes in every neighbourhood in the city to satisfy the needs of food enthusiasts.
There is no better setting for impressing someone than a candlelit supper restaurant, if you've been considering it. Some of the fundamental components that create the ideal atmosphere for a candlelight supper include the cosy ambiance, serene setting, mouthwatering food, some calming music, and some soft light from candles, fairy lights, or lanterns.
It takes careful planning to take your special someone out to supper on a special day. And of course, a restaurant that looks like it belongs in a romantic comedy. Having no idea where to look? We have the answer to your problem, so don't worry. A romantic experience of a rooftop candle light dinner at Madhapur.
Enjoy and make great memories with your significant other while you are sitting in a location that has been decked with a cabana, balloons, and fairy lights. Your chef will serve you a 4-course dinner on a plate that features regional and international specialties. The best late-night conversations allow you to continue your evening with your lifelong partner while rekindling the romance that has been extinguished in your relationship.
You and your partner will enjoy the three-course continental and Indian meals. After a filling meal, unwind on the plush mattress while taking in the stars and relaxing to calming music, and then spend the remainder of the evening enjoying romantic talks.
These are just a few of Mumbai's countless candlelit supper options. Examine your alternatives with cloud Dining, Madhapur, and celebrate forthcoming Valentine's Day or other significant occasions with a surprise.
Simply put, it seems more unique. Regardless of what is on the menu, dining by candlelight is indescribably charming. It doesn't have to be steak and lobster; perhaps warming up a frozen pizza is your most notable success of the day. You'll enhance the elegance and cosiness of your meal by taking a moment to light that candlestick. Candlelit dinners are known for romance, just like long walks on the beach. Whether you're romancing someone else or just need some self-love, we're confident you won't regret lighting the match.
Enjoy a romantic evening with your special someone while celebrating your love. The cabana's ideal fusion of luxury and natural beauty will lift your spirits.
Spend a romantic evening under the stars with your significant other. The hotel makes sure you have a great time by providing lovely flowers, candles, and delectable food.
Our portfolio of experiences will captivate you and your significant other. Fill your special occasions and unforgettable days with these extraordinary experiences to give your enduring romance new life.
About the activity:
Timings: Open from 07:00 PM to 11 PM
Spend a beautiful evening with your partner in Chavadi Rooftop and cherish your lovely moments.
Start your evening with the refreshing welcome drinks.
The beautiful decoration of flowers and candles will create a perfect romantic environment around you.
Relish 5 Course Meal for 2 People + Mocktails + Cake (250gms) + Decorated Table as shown in Pictures /Videos. All the meals provide you with both the option, veg, and non-veg.
Experience a wonderful evening while enjoying the beautiful view of the city with the cabana candel light dinner