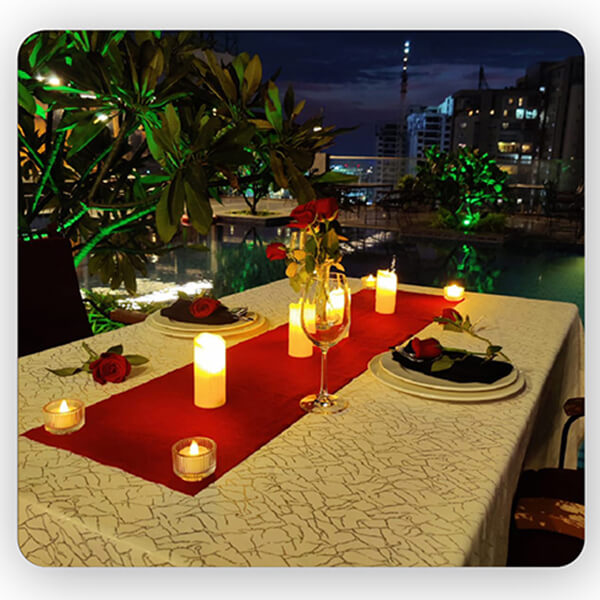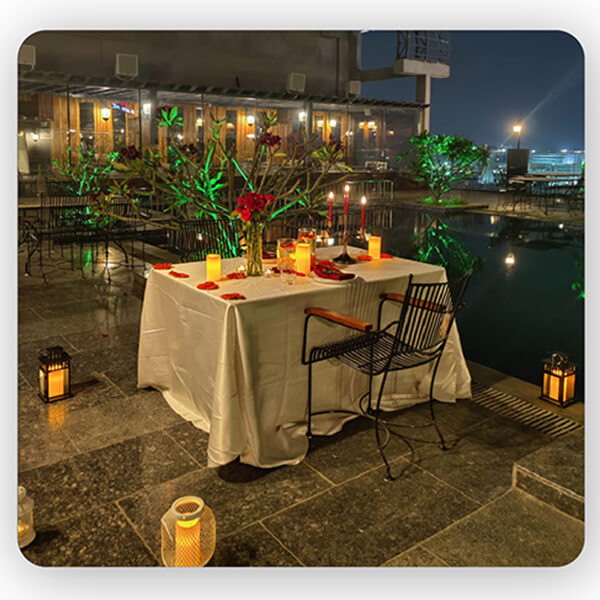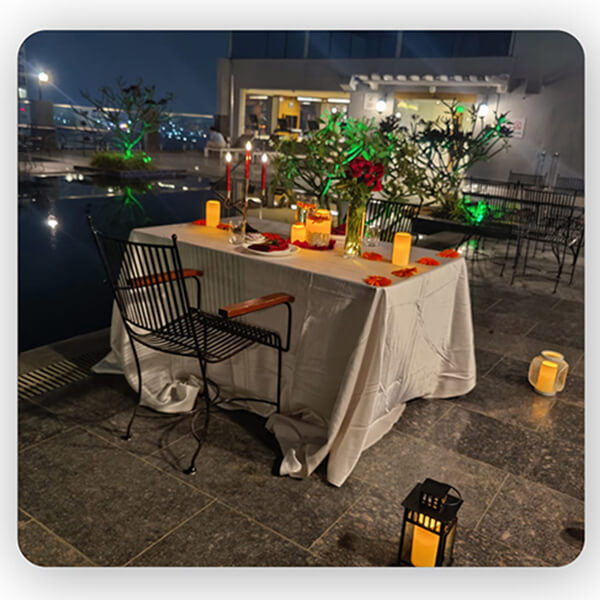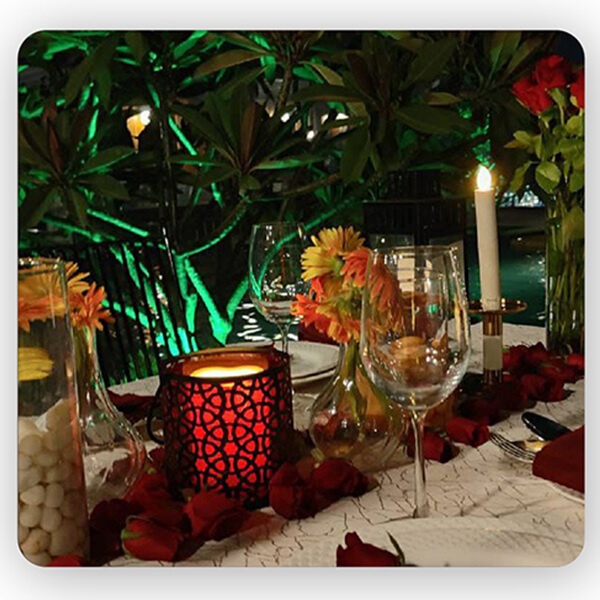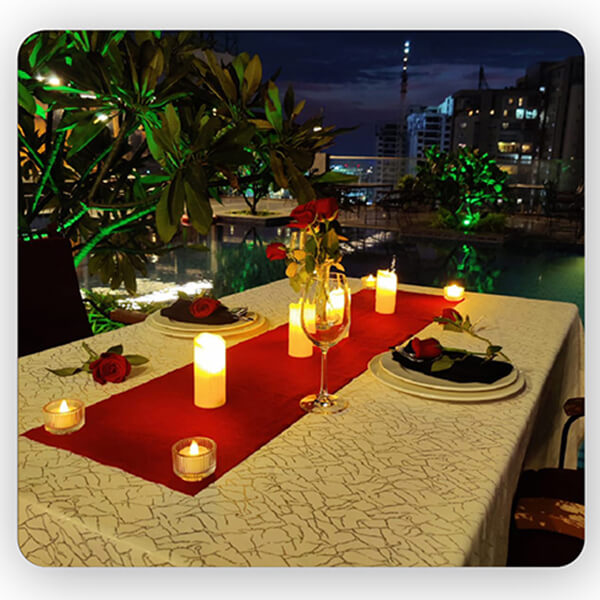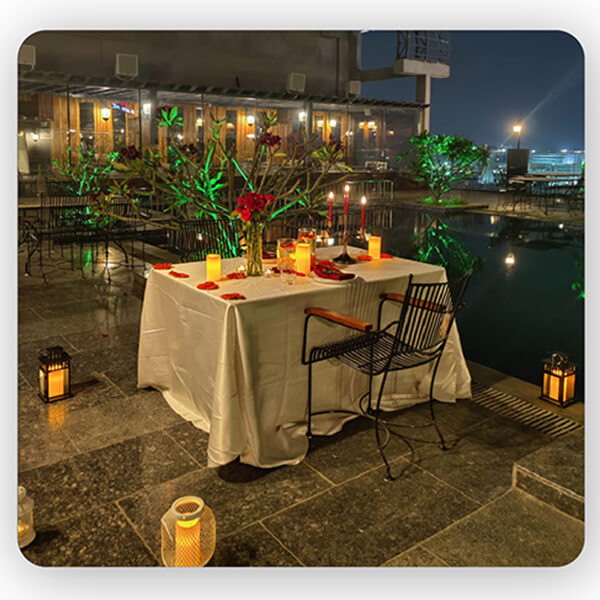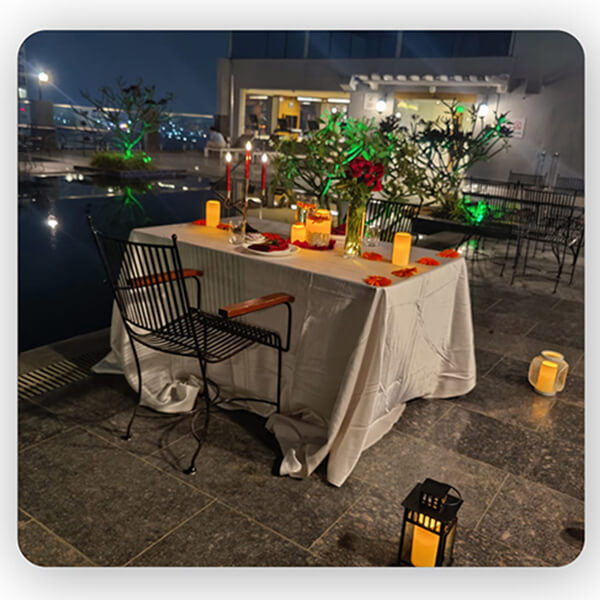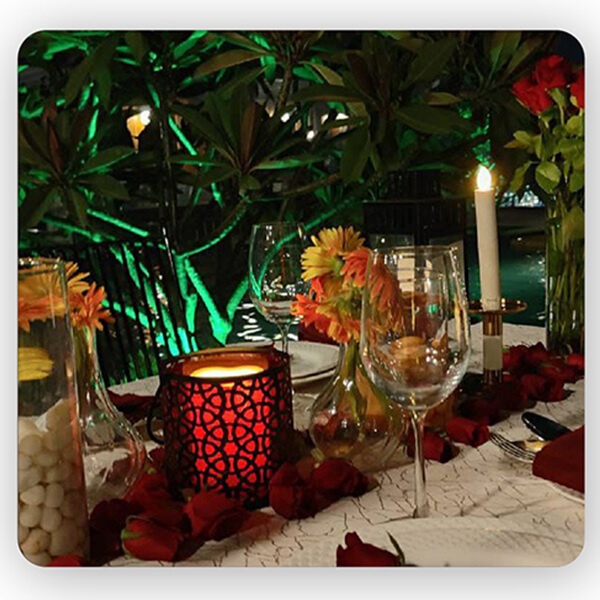 Pool Side Candle Light Dinner with Elegant Setup by Le Meridian
₹9,999.00
SKU:

Pool Side Candle Light Dinner with Elegant Setup by Le Meridian
Description
Being in love is like getting a new toy with lots of secret rooms to explore. You give it your all because it's exciting. However, staying in love is a different matter. "Til death do us part" could seem like a very long period to keep the romance alive occasionally. Well, even a short period of time with the same lover or spouse can begin to feel monotonous.
Receiving love and affection makes you feel good for a reason. It is a physiologic occurrence brought on by the release of oxytocin, sometimes referred to as the "love hormone." Your oxytocin levels increase when you engage in affectionate behaviours like embracing or walking hand in hand. In turn, this encourages connection, reduces pain, and creates a generally soothing feeling. Numerous physiological advantages of love and affection include lowering blood pressure and regulating mood, among other things.
The mental, psychological, and social benefits of experiencing love and affection are self-evident. Aside from assisting you in maintaining healthy, long-term relationships, your self-confidence and self-esteem will benefit greatly. You and your beloved one can deepen your relationship and gain more trust by going to go on a poolside candlelight dinner.
Finding the ideal balance between looking after your relationship and your other obligations can be difficult, especially when job schedules, child care obligations, and daily obligations get in the way. But you must make room for some alone time in your busy schedule. If you want to maintain a solid connection with your partner, it is imperative that you routinely spend some quality time alone together. Le Meridian provides a great suggestion to help you surprise your partner and reignite your fading romance.
During the early phases of dating or marriage, you frequently pay considerable interest to confirm and positively reinforce the relationship. However, as the relationship progresses, this type of effort often slips into the background, leaving your sweetheart unloved.
Think about the value your partner brings to the relationship. They might prepare a meal for you when you get home hungry, utilise their handy skills to fix things around the house, or walk the dog in the mornings so you can get a few more uninterrupted minutes of sleep. Since you've come to expect them, you've probably always enjoyed them but haven't yet shown your gratitude. The secret to improving your relationship is saying it aloud. Let your partner know you value the way they have always shown their affection. Le Meridian can assist you with this by setting up a wonderful candlelit meal for you and your significant other by the pool.
Ask your lover to prepare to be astounded when you whisk them away for a poolside candlelit meal in Le Meridian, Gachibowli. Take your partner's hand as you approach your booked table. Combining all this with a fantastic eating experience arranges a perfect combo.
About the activity:
Swimming pool Candle Light Setup
Inclusions :
5 Course Meal for 2 People + Mocktails + Decorated Table.
Location : lemeridian,