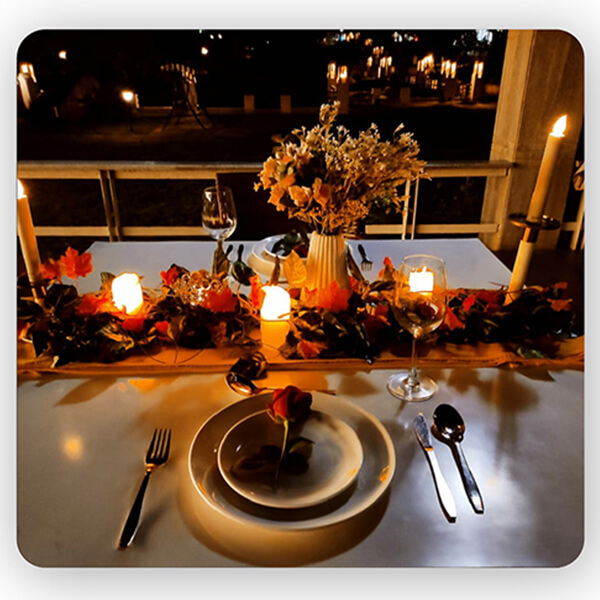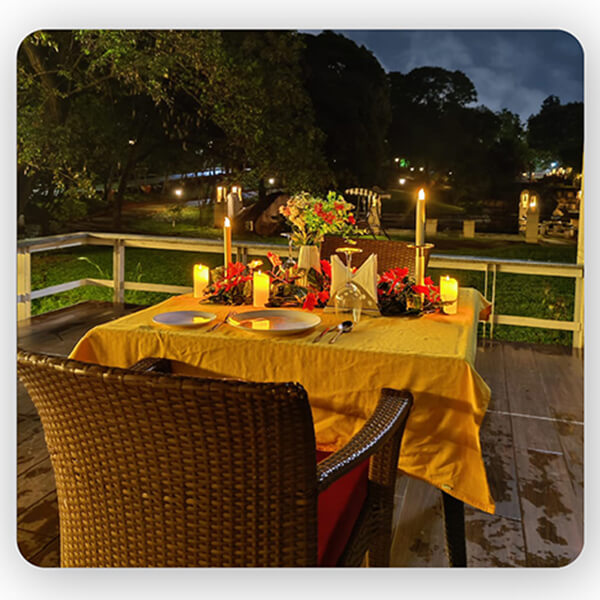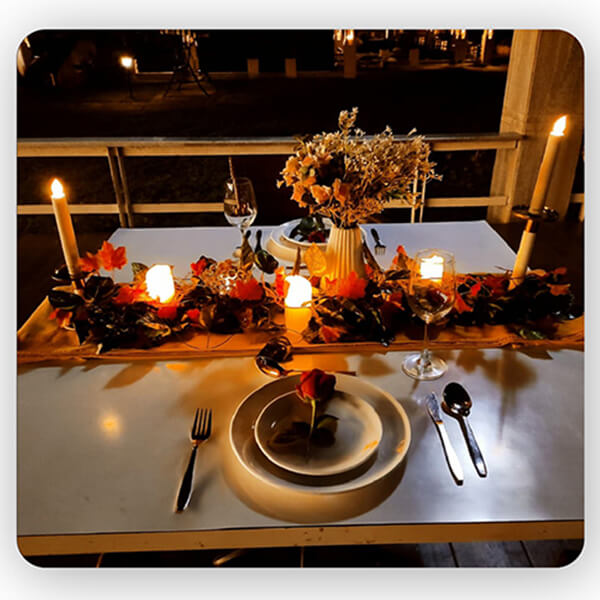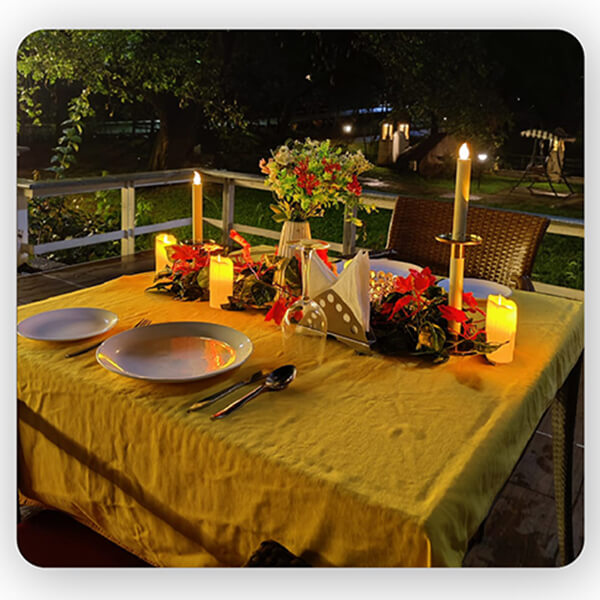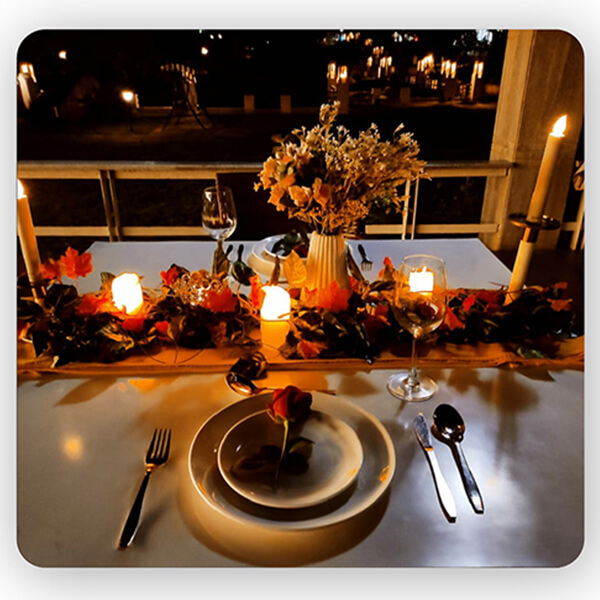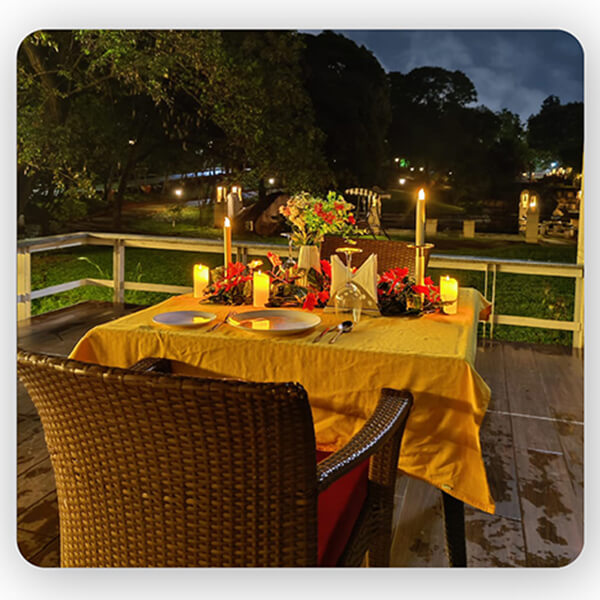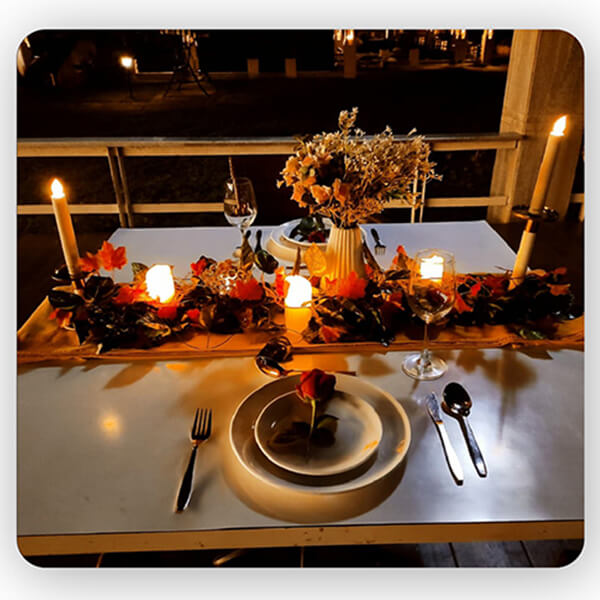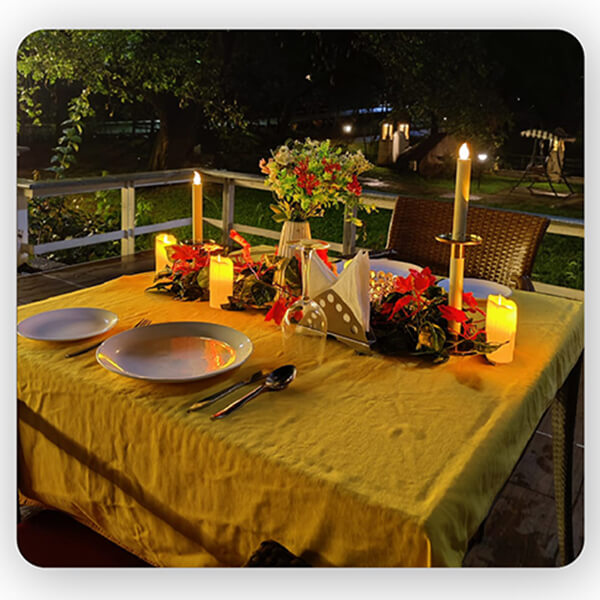 Open Area Candle Light Dinner at Ellaa Hotel
₹9,999.00
SKU:

Open Area Candle Light Dinner at Ellaa Hotel
Description
Nothing says "I love you" like a candlelit meal. A candlelight dinner is a definite way to sweep a woman off her feet, whether you're dining on the beach, in a classy restaurant, or even in the familiar surroundings of your own home. Some guys might even utilize this opportunity to drop the proposal, understanding that his chances are minimal throughout the dinner. But, honestly, why? What's the point of dining underneath the light of a candle?
What distinguishes a candlelight dinner from a casual dinner is, you got it, the candle! When you are under the moonlit sky, and only the wax candle illuminates, everything else recedes into the background. Your attention is drawn to what the candle exposes, the meal, the wine, the beautiful decoration, and your partner! But it must be greater than that, right?  This is where Ellaa Hotel Gachibowli comes into the picture.
The attractiveness of the Ellaa Hotel garden's surroundings and the decor is well recognized. It also has wonderful dinner spaces in Hyderabad and Gachibowli that have been creatively designed with the perfect size. Each dinner area is well-lit with lighting perfect for an outdoor candlelight dinner and acts as the actual core of interaction. The dinner spaces in Ella Hotel Gachibowli are also designed in accordance with the needs and needs of the occasion.
To make your occasion exceptional, they provide everything that you require. Because of their elegance and precision, they provide a touch of class to all of your important occasions. The never-ending passion of their hospitality team will ensure a successful and beautifully special event. Their professionals are prepared to answer any of your concerns and assist you in any way they can. A professional "event consultant" will help you every step of the way, from organizing to the final aspect of your occasion.
Their in-house Senior Chefs offer a choice of options that can be personalized to assist you in putting together a celebration that will be cherished in your style. One of the numerous ways they strive to make your event perfect is by providing the meal. One of the major aspects of every occasion they host is using exquisite cuisine and professional service at a reasonable price which Ella Hotel Gachibowli provides.
The Ellaa Hotel Gachicowli provides the optimum blend of service, elegance, and efficiency, as well as well-trained personnel that provides attentive service, making it the best offer. They can adjust the venues to your requirements and ensure everything runs smoothly.  High-end audio and visual technology is available in every one of the dining spaces to ensure a smooth event and ensure that the outdoor candlelight dinner is more romantic with some romantic songs.
About the activity:
Open area special occasion Candle Light Setup
Inclusions :
5 Course Meal for 2 People + Mocktails + Decorated Table.
Note: Please remember that your booking will be taken with a few others, but your privacy will be guaranteed.
From ideal wedding ceremonies to outdoor candlelight dinners, Ellaa Hotel Gachibowli's skilled team will handle every aspect of your occasion, ensuring that all you need to do now is have a good time with your partner.