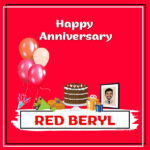 Red Beryl Anniversary Surprise
₹12,000.00
An Anniversary Surprise With Celebratory Elements, Sweet Treats, Memories, Special Card Wishes, Music and Madness, Special Dedications, Balloon Surprise Box, Lovely Presents, & Paparazzi!
SKU:

Red Beryl Anniversary Surprise
Description
Additional information
Reviews (12)
Description
Red Beryl Anniversary Surprise Details:
Where there is love, there is peace! If you are truly in love with someone, you feel blissful in the companionship of that one person, irrespective of what is going on in your life. You find a home inside that person because they make you feel warm and cosy with all the love and care that they shower. Such a beautiful person in your life deserves to know how much you love them. Take it to your anniversary to manifest your profound feelings and turn your love bond into a much tighter one. 
This spectacular anniversary surprise planned especially for your spouse is something he/she has never received before! 
Our surprise team secretly makes the way to your doorstep and as soon as the door is opened, the magic of love is felt, the vibes of which continue to spill joy for the rest of your lives. 
The music, madness, memories, dedications and sweet treats and the lovely aura spread all around will make it a perfect anniversary surprise!

Inclusions –
Delicious cake
Fresh and Aromatic flowers
Themed colourful balloons
Wish board
Assorted Chocolates
Party Poppers
Lip-Smacking Delicious Cupcakes
Music and Madness
Magnet Memoire
Magic Mirror – Special Card
Pop Me – Anniversary Surprise Balloon Box
Dedicate a Tree
Photo In a Jar
Photo Film Book
A little box of Happy Thoughts
Love story – photo frame
Paparazzi – Photographer
Surprise Team
*The imagery content is only for creating familiarity with the product. The deliverables may be improvised/not exactly match with the above in real-time.*