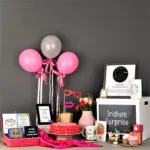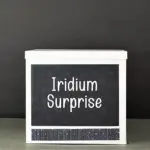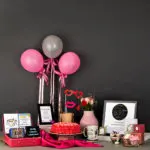 Iridium Anniversary surprise
₹16,000.00
Bring the bountiful gifts and surprises with the  Iridium Anniversary hamper. Throw a fun and frolic party to your darling and witness new memories with this awesome anniversary surprise from Book The Surprise.
SKU:

Iridium Anniversary surprise
Description
Iridium Anniversary surprise
Love is to be celebrated all through the year, although anniversaries play a significant role in a couple's life as the day marks a milestone in their journey as years pass.  By all means, the say holds a special position in a couple's life. Often the day is toasted with celebrations and some memorable moments . make your coming anniversary a special one with the Iridium anniversary surprise. It is a celebratory package where a multitude of gifts will be presented to you at your doorstep and 'Surprise Wizards' will take charge in making your otherwise boring place into a Celebratory venue to spark in some new memories on that special day. Paint the town in the rich colors of Pink and black with the balloons and party poppers in the same shades will fill in the festive mood. Treat your sweetheart with a set of adorable flowers that will compliment them. The sugary delights like a fluffy cake and bundle of luscious chocolates and cupcakes will sweeten the evening. The couple emoji cards, QR code cards, the pun cards and the cuddle pillow will bring back that lost smile into their face. Personalized gifts like the Audio greeting card, Name a star with frame, Personalised mug will add more charm to the day. The 
Photo film book, Magnet memoir and the Photo in a jar will make them go down the memory lane. The 'Dedicate a Tree' gift will touch them deeply. To sum up all, The Iridium is in a heart-touching anniversary surprise with abundant delights for that perfect anniversary date. 
Inclusions
Delicious cake
Fresh and Aromatic flowers
Party poppers
Colorful Helium balloons
Lip|smacking Delicious cupcakes
Luscious Chocolates
Magnet memoire
Couple emoji cards
QR code cards
Name a star with frame
Dedicate a tree
Photo film book
Personalised mug
Pun cards
Audio greeting card
Photo in a jar
Cuddle pillow(small)