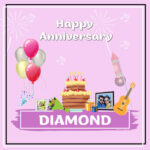 Diamond Anniversary Surprise
₹28,000.00
An Anniversary Surprise With Celebratory Elements, Sweet Treats, Memories, Special Card Wishes, Live Performance by Guitarist, Wishes on Big Screen, Love Hamper, Star Dedications, A Lightning Night Sky, Love Coupons, Balloon Surprise Box, Love Contract, Lovely Presents, & Paparazzi! 
SKU:

Diamond Anniversary Surprise
Description
Additional information
Reviews (8)
Description
Diamond 

Anniversary Details:
It's time to raise the toast for the beautiful days that you have spent with your better half. Let your spouse know how much you admire him/her with a diamond surprise that guarantees goosebumps. Anniversaries are a great opportunity to remind your spouse of how beautiful your journey was and how strong is your bond to survive through all the thicks and thins. 
It reminds you of the amazing compatibility that you both have that compelled you to love each other a little bit more and a little bit stronger by each passing day. Nothing amazes your partner other than the best experiences that a diamond surprise includes and the series of gifts that makes your partner go all smiles. 
Watch your partner go awe-struck as the sky lights up with an amazing burst of crackers. The surprise is followed by a live musical performance by a professional guitarist and the celebrations that will make him/her go speechless by the end.
Inclusions –
Delicious Cake
Fresh and Aromatic flowers
Colourful Balloons
Wish board
Luscious Chocolate Pop
Party Poppers
Lip-smacking Delicious Cupcakes
Live Performance by Guitarist
Wishes on Big screen – Projector
Anniversary Props
Light up the sky
QR code cards
Redeemable coupons
Love contract
Name a star with frame
Couple mugs
Dedicate a tree
Photo film book
Pop me – Anniversary Surprise Balloon Box
Happily Hitched and Madly in Love – Hamper
Paparazzi – Photographer
Surprise Team
Note:
The surprise can be booked for your spouse on your anniversary (or) for any couple who are celebrating their anniversary.

The surprise event is assured to be executed in the slot timings. In case of emergencies and mutual discussions from our management team, the timings may be altered. In the case of uncontrollable situations that stop us reaching the place (Problems such as curfews, strikes, rains, floods), we cannot promise the execution of the surprise at the given time. In such cases, the event can be executed at another time with mutual understanding.
In case of non-execution due to natural circumstances like above, the total money will be refunded.
In case of non-execution due to customer's or recipient's will, no money will be refunded.
In case of non-execution due to any reason from our end, total money will be refunded.