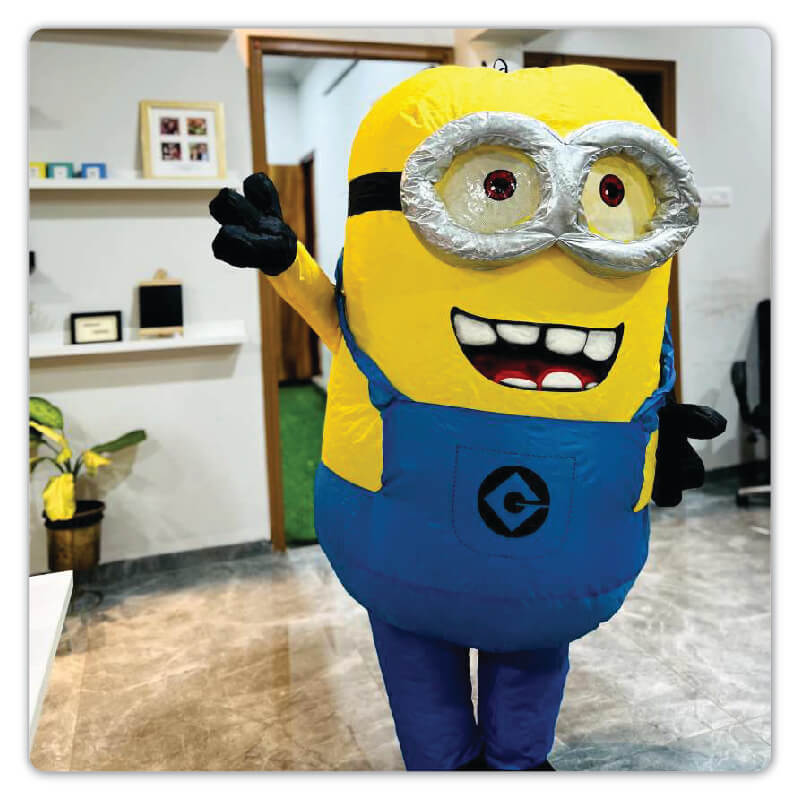 Minion Surprise
₹3,500.00
Description
Nothing is sweeter and more delightful than having a big character show up to your house and completely surprise you. The joy and good times necessary for any kind of celebration will be ensured by inviting your favorite character. Your pleasure and innocence as a child will return, and the kids will be overjoyed to see this wonderful surprise. Children are the target audience for characters like Pikachu, Santa Claus, Minions, and Super Mario, and they typically enjoy simple things that calm their minds. So having a cute, amusing, and heartwarming creature like these would undoubtedly cheer everyone up.
Children adore minions to the hilt. One of the explanations could be that these tiny yellow creatures resemble kids. They have a humorous, enjoyable, and free-spirited way of living their life. Minions are primarily amusing small yellow characters with odd voices. Their humor is straightforward and subtle. To get a hold of a Minion, you don't even need to understand humor or speak a language. They exist as they do. They crack jokes about farts, they pronounce "banana" hilarious, and they light stuff on fire unintentionally. What kid wouldn't want to see this silly little character appear as a surprise? This surprise will last for 30 minutes. Enjoy this adorable minion's presence for the full thirty minutes. The celebration will undoubtedly be one to remember!
This bundle contains more than just a Minion! It also includes a variety of other extras to make the celebration unforgettable. It is essential to capture images of an event so much fun in order to save your wonderful memories for the future. But you don't need to be concerned about who will shoot the photos or whether you'll always be able to catch the ideal moments. To document all of your sincerest grins and the sweetest expressions on your faces, we also include a photographer in this package. In addition, the package includes cake or cupcakes because a celebration would be lacking in detail without dessert. In order to further enhance this fantastic surprise, it also comes with a customized chocolate box that is intended to make the recipient feel special. Additionally included are a lovely wish board and the exceptionally interesting Pari Pari picture frame. Absolutely nothing is missing from this party package!
The surprise will undoubtedly brighten everyone's day, so don't delay to book it. No amount of time or possibilities in the future will be able to provide us with the genuine joy we will experience as a result of magnificent celebrations such as these. To remember our loved ones of all the love and happiness they have at this place of yours, it is crucial to have and treasure these moments. This memory will be ingrained in your hearts and minds forever.
Additional add ons:
Photographer
Cake/cupcakes
Customized chocolate box
Wish board
Pari Pari photo frame