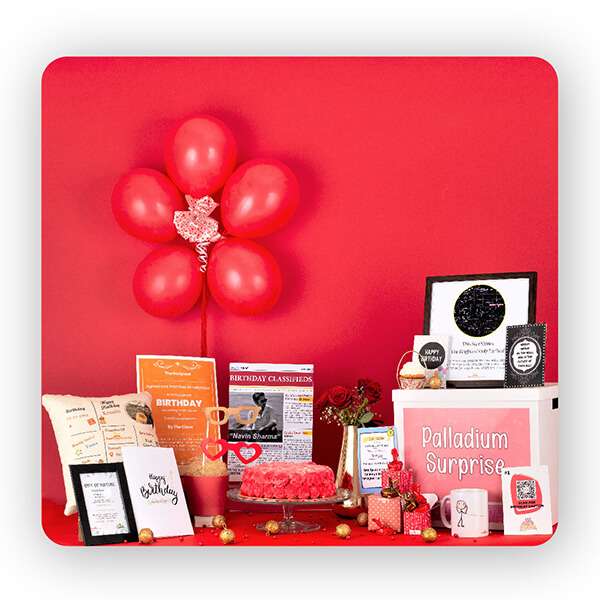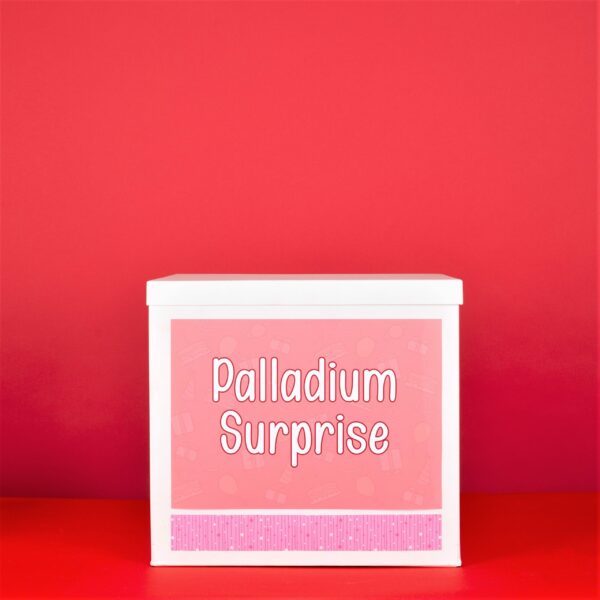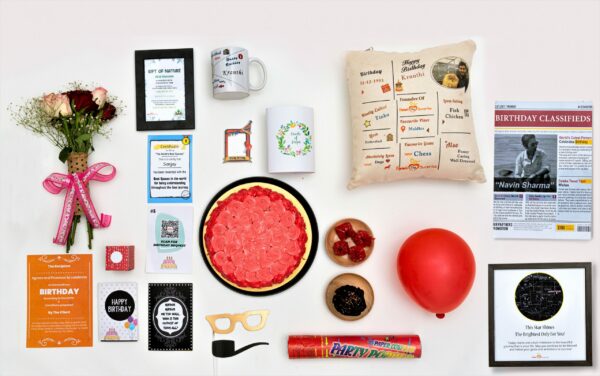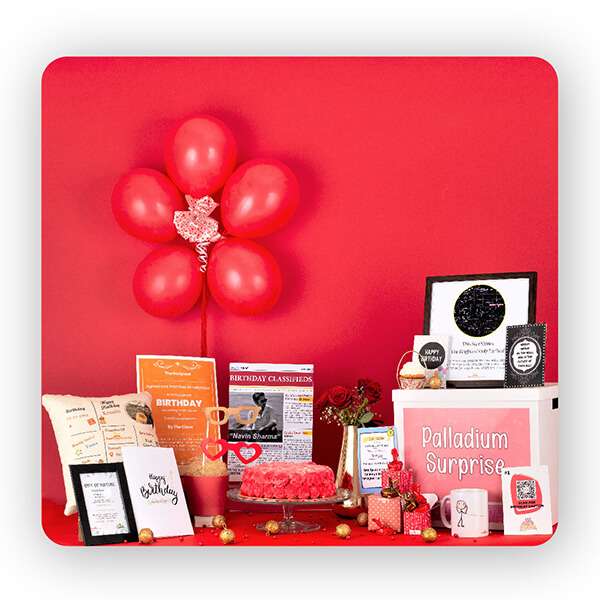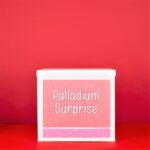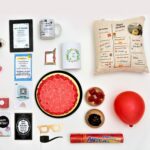 Palladium Birthday Surprise
₹19,000.00
Palladium Birthday Surprise is all buzz with the Sweet sugary delights, and a multitude of gifts and goodies  to make your specail swoon in the celebratory mood and feel kingsize.
SKU:

Palladium Birthday Surprise
Description
Palladium Birthday Surprise details:
Birthdays carry moments that are so endearing and unforgettable especially when you get to see the unending smile of your dear one when you surprise them.  The hand-selected adorable flowers will be a heartwarming gift. Paint the decors in red and black as the colourful balloons will dominate their space.  The Party poppers and Birthday props will serve the festivities while sweet delicacies will taese their taste buds like never before with a platter of Lipsmacking Cake, delicious cupcakes and luscious chocolate Pop. Special customized gifts and goodies like the Birthday classifieds frame, name a star with the frame , personalised mug, Personalized cushion, greeting card with audio message QR code messages and the unending "Oye It's My Birthday" hamper will fill their day with joy. It doesn't end there, but with loads of goodies to give an unforgettable evening.
Inclusions :
Delicious Cake – 1kg
Fresh and aromatic flowers
Party poppers
Colourful balloons
Lip-smacking delicious cupcakes
Luscious chocolates
Birthday props
Pop me birthday box
Birthday classifieds frame
Birthday contract
Oye! It's my Birthday hamper
Dedicate a tree
Name a star with frame
QR code cards
Personalised mug
Personalised cushion
Greeting card with Audio message
Magic Mirror card
Reward for being ' The Best'
Paparazzi – Photographer
Note: The Delivery is assured to be executed in the slot timings. In case of emergencies and mutual discussions from our management team, the timings may be altered. In case of uncontrollable situations that stop us reaching the place (Problems such as curfews, strikes, rains, floods), we cannot promise the execution of the surprise at the given time. In such cases, the order can be executed at another time with mutual understanding.
In case of non-execution due to natural circumstances like above, the total money will be refunded.
In case of non-execution due to customer's or recipient's will, no money will be refunded.
In case of non-execution due to any reason from our end, total money will be refunded.
*The imagery content is only for creating familiarity with the product. The deliverables may be improvised/not exactly match with the above in real-time.*