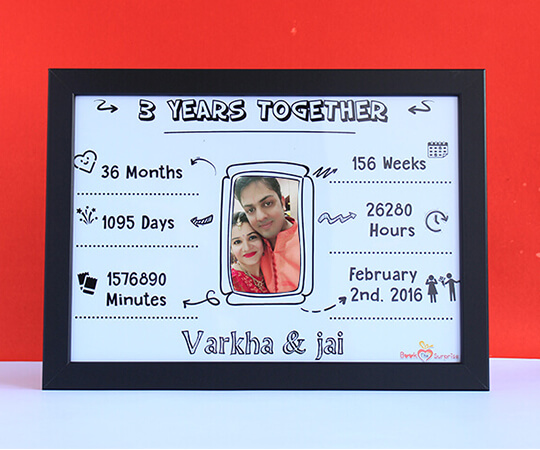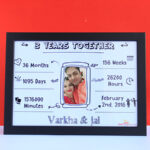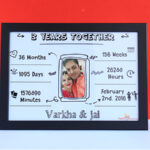 Years of Togetherness
₹999.00
Anniversary Frame to Count Every Second of Your Togetherness!
SKU:

Years of Togetherness
Description
Additional information
Reviews (1)
Description
Product Overview:
Years we spent together frame. This nice, customised anniversary photo frame tells you the amount of time you spent so far with your partner, in terms of months, weeks, days, hours and minutes. Along with the date you met your partner as well.

Description:
This love photo frame is the perfect anniversary gift for your partner. Life would not have been so exciting if it wasn't for your loved one. Cherish every second you have with her/him because this beautiful person has made every moment in you life special. This relationship frame is a good gift to remember all the good times you had with him/her. Have a wonderful anniversary and enjoy the rest of your life with your dear one. You will have to upload a photo of you and your partner along with a few other details mentioned in the requirements.
Dimensions:
A4 sized frame
Inclusions:
1 years we spent together frame
Requirements:
One photo of the two of you
The following details:
The names of you and your loved one

The date you first met him/her or your wedding date