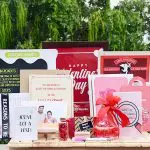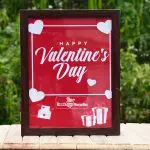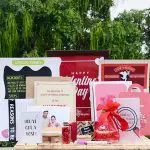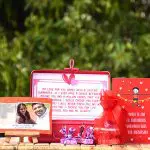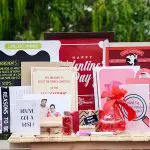 Valentine's Day Hamper
₹19,999.00
SKU:

Valentine's Day Hamper
Description
Valentine's Day Hamper
There is a Valentine Contract that binds the recipient to a set of rules mentioned in the contract. Nothing serious, don't worry! There are also a few questions for your partner. The Magic Mirror Greeting Card lets the recipient know who is the cutest person in the world. The mirror inside shows that he/she is the most stunning, beautiful and loveliest person. There are 5 Love Recipe cards with romantically written recipes. Have fun stirring them up. The '7 reasons to be mine' cards are 7 reasons why you both should be together forever. The 'Mailbox for Valentine' is a set of 5 postcards with super-cute messages to meet your loved one's heart. The box of Magnet Mémoire is a set of customisable fridge magnets where you can write messages using the mini pen-marker and duster. The Love Journal is a collection of love letters with different themes – Vintage, Disney, Legal, Gamer, Foodie, Nerdy and Bollywood! The days leading to Valentine's Day are exciting. So we have created 6 Countdown cards – Propose Day, Rose Day, Teddy Day etc. There is a unique Valentine Day Easel that you can personalize by putting in a photo. A Valentine's Day photo frame and a pouch of chocolates can be found. The last thing of this humongous hamper is 'Love in the Bottle' – a tiny bottle filled up with a romantic message!
Inclusions:
 

Valentine's Day Contract

Magic Mirror Greeting Card

5 Love Recipe cards

7 '7 reasons to be mine' cards

5 'Mailbox for Valentine' postcards

Magnet

Mémoire 

7 letters of 'Love Journal'

6 Valentines Day Countdown cards

Valentine's Day Easel

Love In the Bottle

Photo frame

Chocolates
           Requirements:
5 photos for fridge magnets

1 photo for easel

1 message for the bottle
                 For any further details about this surprise, you can call us on +91 9000984662.