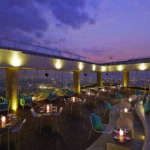 Scintillating Rooftop Dining at Marathahalli
₹2,949.00
SKU:

Scintillating Rooftop Dining at Marathahalli
Description
Whatever be the occasion, you can make it a grand surprise for your loved one by taking him/her out on a candle light dinner. Enjoy your dinner with your partner while getting a birds eye view of the garden city. Not many rooftop restaurants in bangalore provide such a good view of the city. It's not just the view that is good, but the food and service is impeccable as well. Your table is beautifully decorated with rose petals and cute candles.The overall ambience of this place is perfect for a romantic candle light dinner. Enjoy your mocktails along with your delicious 3 course meal. This experience is surely going to be a good one.
Key features:
3 course meal
Veg and non veg options 
Open till 11 pm
Location:
At Marathahalli, Bengaluru.