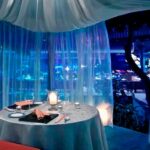 Luxurious Cabana Dining at Taj
₹24,999.00
SKU:

Luxurious Cabana Dining at Taj
Description
Spend your evening in a beautifully decorated cabana along with your loved one. This cabana dinner is sure to make your loved one feel special. Your table will be decorated with candles and rose petals. The cabana and the lights make the ambience of the place spectacular. You can enjoy at most privacy for your cabana candle light dinner and no one will be there to disturb the two of you. You get two refreshing mocktails on arrival and you get to choose your meal from the chef's special Vietnamese special menu. Spend the evening here and make your life with your loved on more joyful.
Key details:
includes 5-course North Indian meal, soft music,fowers,champagne,private butler, total privacy
Other details:
The restaurant is open till 11 pm
Valet parking is available
Location:
The Taj West End, Bengaluru.