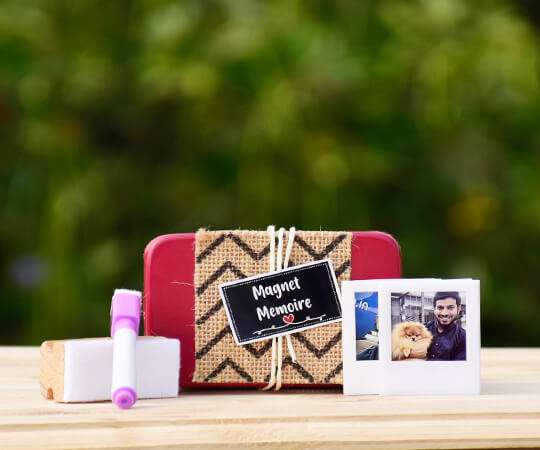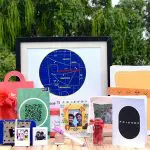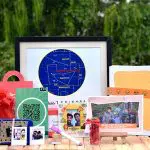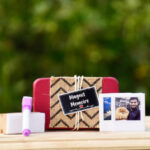 Hamper for Friends
₹2,999.00
Description
Hamper for Friends
The hamper consists of 5 customised Bitmoji cards. They will tell things about his/her personality in a cute and funny way. 
 'I'll Be There For U' – A familiar tune? It's the theme song of ' F.R.I.E.N.D.S'. We have always loved the friendship among the spectacular 6 and took inspiration to make a fridge magnet. A white fridge magnet with phrases from the show and a photo of your friend in the centre.
The box of Magnet Mémoire is a set of customisable fridge magnets with 5 photos. We give a duster and a mini-marker so that you can write a message on each magnet!
Next is the jaw-dropping 'Name a Star' idea. This friend has always been a guiding star. So why name a star after your friend! Your friend will get a frame showing the star named after him/her and a lovely message. There will be a fact sheet and a certificate.
Your friend will get a bag of 'Sweet Somethings' too. A paper bag with 5 message cards with short and cute lines, enough to make the special friend blush. And there is a certificate vouching for his/her greatness.
'Love in the Bottle' allows you to send a message packed in a tiny bottle. Send the message we will seal it in a bottle.
5 QR code cards feature in the hamper. One has to scan these codes on the phone and messages will pop up.
The cute photo easel will have a photo of your friend, so choose the best one.
Inclusions:
Bitmoji cards

Fridge Magnet

Magnet Mémoire

Name a star

Sweet Somethings

Love in the Bottle

QR Cards

Photo Easel
Requirements:
Photo of a friend for F.R.I.E.N.D.S magnet

5 photos for Magnet Mémoire

Friend's name for the naming star

Message for bottle

Photo for Easel
      For any further details about this surprise, you can call us on +91 9000984662.