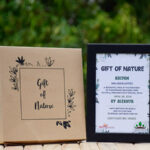 Dedicate A Tree – Go Green in Love!
₹999.00
Plant A Tree & Dedicate it To Someone – All WIth Just A Single Click!
SKU:

Dedicate A Tree - Go Green in Love!
Description
Additional information
Reviews (4)
Description
Dedicate A Tree –  Go Green in Love!
Do you have an environmentally conscious person in your life? Well, we have the perfect gift to surprise them. 
What better way to celebrate their conscience than dedicating a tree in their name? It is a thoughtful and empathetic thing to do, considering that our planet is going through a climate change crisis as we speak!
The tree dedicated to your loved one will be planted by a tree-planting organisation, whose goal is to increase greenery in the world. Your partner will receive a certificate with their name, to document this sensible action forever. 
In addition to this, you can pinpoint the location of your tree through the certificate. This gift is a brilliant way to make your partner's green heart happy. 
Requirement: Your partner's name
For any further details about this surprise, you can call us on +91 9000984662