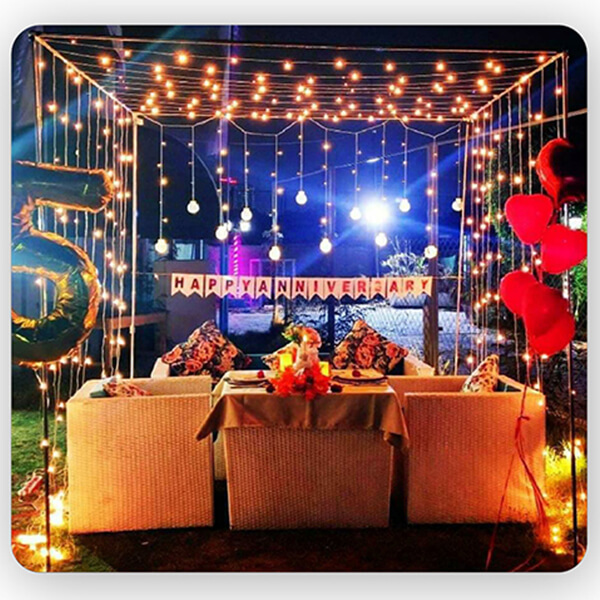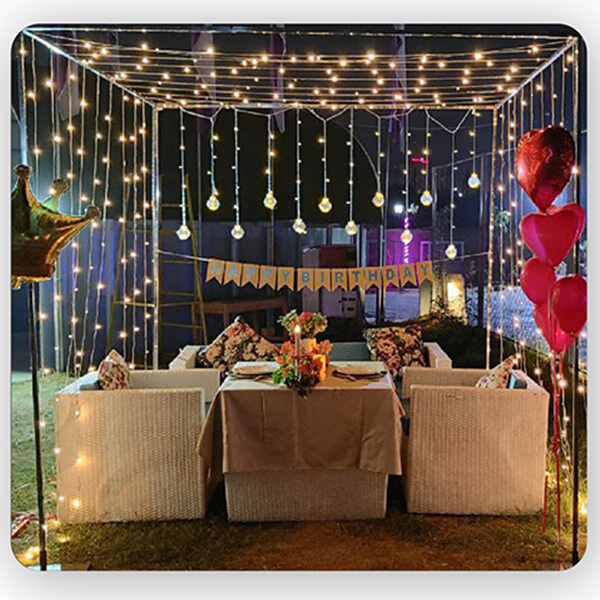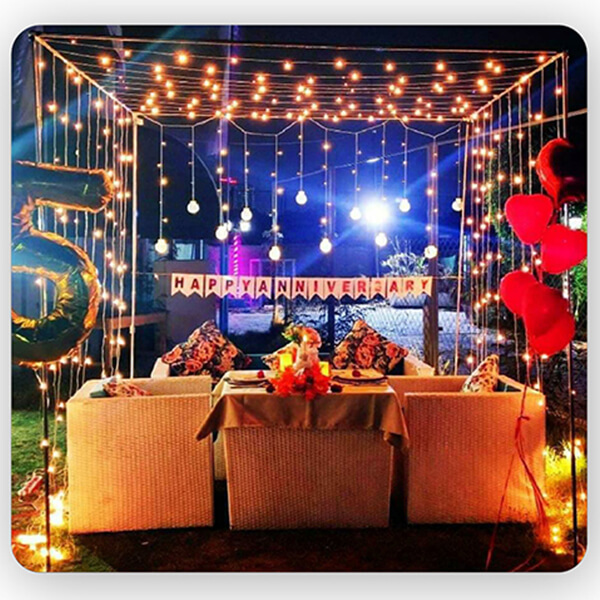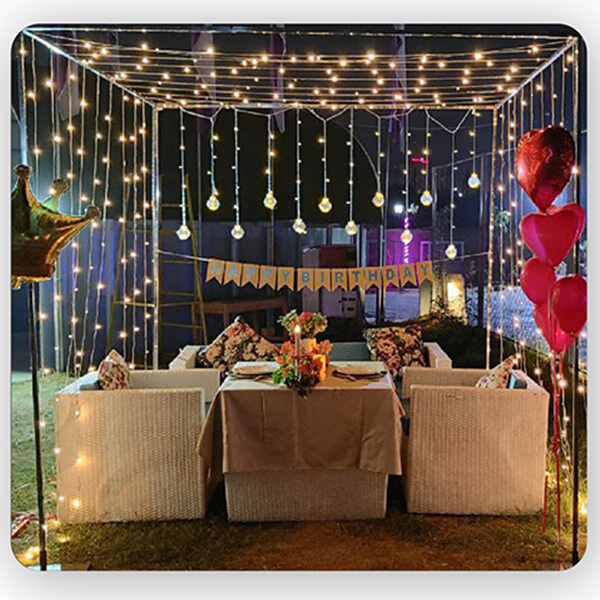 Cabana Candle Light Setup without Led Light Could Dining
₹9,999.00
SKU:

Cabana Candle Light Setup without Led Light Could Dining
Description
Feast amidst the sky's clouds. admiring the brilliant lights amid the moonlit city's darkness, the opportunity to eat in a cabana from the ground. It is also known as cloud cuisine.
Have you been looking for the perfect spot for a romantic evening? With Cloud Dining, Madhapur, you can ignite sparks between you and your partner. Get ready for an impactful evening with your beloved in an exotic location with a wide range of delicacies.
We're going to make this evening one to remember. We'll take care of all your needs. We are the best choice if you're looking for romance and glitz. Enjoy a romantic evening at cloud Dining in Madhapur with your special someone.
The ideal privacy for a private moment with your sweetheart is offered by cabanas. The sophisticated mocktails that come next and a bottle of sparkling wine will set the tone for the rest of the evening. Your chef will present you with a platter of a 4-course dinner that includes regional and continental specialties. The best late-night discussions let you spend the remainder of the evening with your lifelong companion while reigniting the romance that has been snuffed out in your union.
The three-course continental and Indian meals will be delicious for both you and your spouse. After a hearty dinner, relax on the luxurious mattress while listening to soothing music and soaking in the stars, and then spend the rest of the evening having erotic conversations.
Take your significant other here to enjoy a new kind of love. Hyderabad's exquisite rooftop restaurant is a wonderful spot to find lasting love.
Many places, including inexpensive and exciting choices, will be available to you. Set up a cabana-style table with candles, bright lights, and decorations. You'll be astounded by the options the city offers for the perfect romantic date. If you promote romance and love across the neighbourhood, it will come back to you in the form of atmosphere and hospitality.
These are just a few of Mumbai's countless candlelit supper options. Examine your alternatives with cloud Dining, Madhapur, and celebrate forthcoming Valentine's Day or other significant occasions with a surprise.
The ideal fusion of luxury and the beauty of nature from the cabana will brighten your mood as you spend a romantic evening with your significant other.
The hotel makes sure you have the perfect date with lovely flower and candle decorations, wonderful meals, and an evening spent beneath the stars with your spouse.
We guarantee that the experiences in our portfolio will enthral both you and your significant other. To give your enduring romance new life, fill your important occasions and unforgettable days with these exceptional encounters.
About the activity:
Timings: Open from 07:00 PM to 11 PM
Spend a beautiful evening with your partner in Chavadi Rooftop and cherish your lovely moments.
Start your evening with the refreshing welcome drinks.
The beautiful decoration of flowers and candles will create a perfect romantic environment around you.
Relish 5 Course Meal for 2 People + Mocktails + Cake (250gms) + Decorated Table as shown in Pictures /Videos. All the meals provide you with both the option, veg, and non-veg.
With the cabana candlelight meal, have a lovely evening while taking in the stunning view of the city.