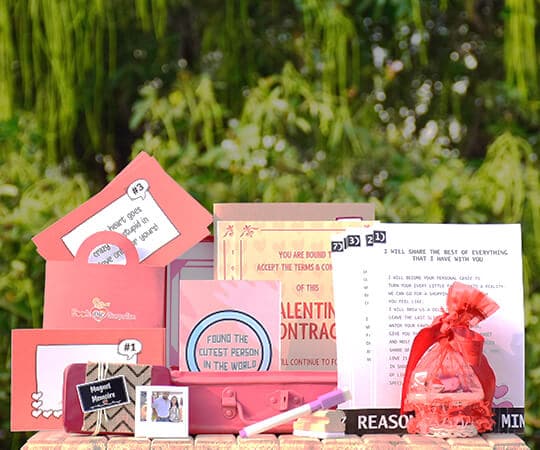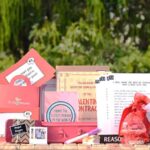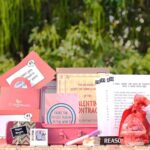 Box Full of Love for Valentine Hamper
₹20,999.00
SKU:

Box Full of Love for Valentine Hamper
Description
Box Full of Love for Valentine Hamper
This is not just another gift hamper filled with randomly assorted things.
It includes 7 cards on '7 Reasons to mine', basically providing your lover with 7 valid reasons on why you two must be together. Each reasoning card comes with an individual envelope. It also has a fun 'Valentine Contract' which has some rules which your loved one has to follow.
 There are also some questions. There is the magic mirror card which is a greeting card with a mirror inside. The reflection of the mirror will let your special one she /he is the cutest one on earth. There is Magnet Mémoire which a set of 5 fridge magnets that you can get customised by sending 5 photos of your choice. A duster and a mini marker have been provided so that you can write your own messages. The 'Sweet Somethings included is a set of 6 cards where 5 cards contain messages of appreciation for your partner and the 6th one is a certificate certifying him/her as the best.' There is also a small red pouch of chocolates. 
We are certain the box will live up to its name. So go ahead and spoil your loved one silly.
Inclusions: 
7 Reasons to be mine

Valentine Contract

Magic Mirror Card

Magnet Mémoire 

Sweet somethings

Pouch of chocolates
          Requirements: 
          5 photos for fridge magnets
          For any further details about this surprise, you can call us on +91 9000984662.