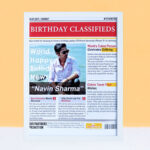 Birthday Classifieds Frame
₹1,499.00
Newspaper Classifieds birthday photo frame with name. A customised newspaper cutting stating your friend's birthday. 
SKU:

Birthday Classifieds Frame
Description
Birthday Classifieds Frame
We think that your love for your partner is nothing short of important news. So, why not express your love through a news-themed classifieds frame?
Make your loved ones feel famous on their birthday with a customised newspaper cutting stating its their birthday, along with customized news on the same topic. It's a funny gift to give someone and is sure to make anyone laugh. 
Get your partner's classifieds frame customised with a picture of them on the front page. Then, watch them become the headlines with articles dedicated just for them. 
This is an extremely innovative and creative way to show your partner that they are the headlines of your life. Watch them explode with joy at this smile-worthy birthday surprise. 
Dimensions: A3 size frame
Requirements:
For any further details about this surprise, you can call us on +91 9000984662