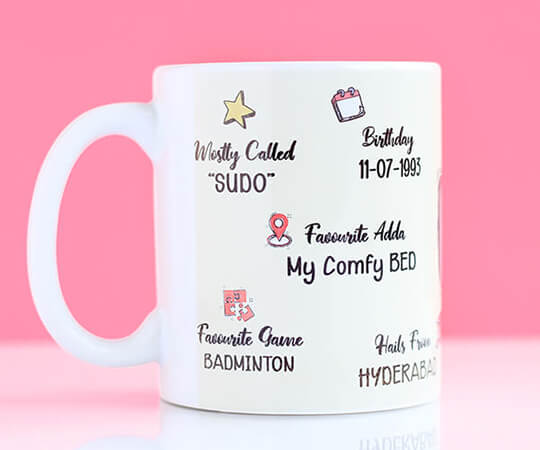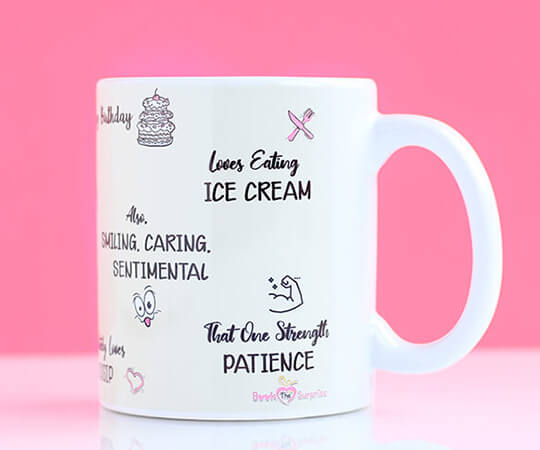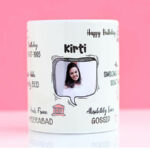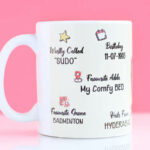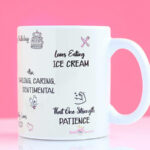 All About Me Coffee Mug
₹499.00
Product Overview:
personalised coffee mug that displays you or your dear one's key features.
SKU:

All About Me Coffee Mug
Description
Description:
A cute gift for yourself or someone dear to you on their birthday. This custom coffee mug will have small details like your birthday, favourite food, home town etc. It is a great birthday gift for friends and family whom you are very close to. If you are thinking of giving someone a very personalised and creative gift on their birthday, this custom mug is probably the best thing to give them. You need to share a few key features of this person along with one photo.
Inclusions:
One All About Me Coffee mug
Requirements:
2 photographs
The following details:
Birthday

City he/she hails from

Favourite food

One strength

Something this person says very often

Nickname

Favourite Adda

Favourite game
And three other characteristic traits of this person.