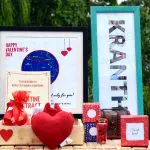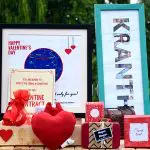 24 Hours Valentine Hamper
₹12,999.00
SKU:

24 Hours Valentine Hamper
Description
24 Hours Valentine Hamper
The 24 Hours hamper has enough gifts which you can give throughout the day. The Valentine Contract is a lovely way of binding your loved one to you forever by a set of rules. It has some interesting questions that he/she would enjoy answering. 'Love in a bottle' is a tiny bottle. Just write a cute little message for your love and we would put it in the bottle. Your partner would never dispose of this bottle. We have packed in a cuddle pillow. It is a red heart-shaped plush pillow with cute little hands which will hug back your sweetheart when you are not around and you are being missed. The little red box that you can see is named 'Magnet Mémoire' – Moments in Magnets. It is a box of 5 fridge magnets that have photos of your choice on them. The mini marker and the duster can be used to write personal messages. There is a Valentine's Day/Personalised mug and a 'Name In the Frame' which is a personalized photo collage frame. Send us his/her name and some photos to be collaged within the letters of the name. Innovative and impressive! There is a frame which shows the star you have named after your dearest and also a warm message for him/her. 
Inclusions:
Valentine's Day Contract

Love in the bottle

Cuddle pillow

Magnet Mémoire' 

Mug

Doodle Frame

Name A Star for Valentine
           Requirements:
Message for bottle

5 photos for magnets

Photos for name frame

Name for frames 
For any further details about this surprise, you can call us on +91 9000984662.